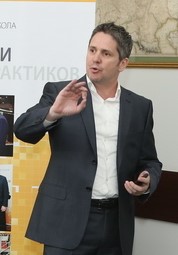 Position

Managing Director, Narrative Insights;

Lecturer, Department of Modern Languages and Communication, the National University of Science and Technology "MISIS"

Degree/rank:
MBA
Phone:
+7 495 955-00-51
Email:
marcusguest@narrativeinsights.com
Education
Master of Business Administration, Warwick Business School, UK.
Courses Taught
Communication for Innovation
Practical Experience
Managing Director, Narrative Insights;
Strategy Director, KPMG;
Interim CEO (Business Unit) ESN Group;
General Manager, Staffwell;
Country Director, English First.
Narrative Insights was founded in 2013 by Marcus Guest as part of the Cognitive Edge global network — rejuvenating organisations with methods, tools and capabilities based on Complex Adaptive Systems theory and other scientific disciplines for social systems. These approaches are known as Sense-making and Anthro-complexity and deploy the patented SenseMaker® tool for Narrative Research and the Cynefin Framework™ to aid decision-making and action.
Marcus designs and leads engagements globally to discover actionable insights — with successful projects for the Big 4, leading financial service firms, global NGOs and government agencies. Previously, Marcus worked as a General Manager in leading service firms in Russia and Asia and as a Strategy Consultant in the Big 4. He has an MBA from Warwick Business School (UK), specialising in Business Transformations.