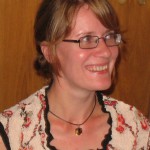 | | |
| --- | --- |
| Position: | Associate Professor |
| Degree/rank: | Associate Professor, PhD (Philology) |
| Phone: | +7 495 236-42-63 |
| Email: | sukhova.natalya@gmail.com |
Education
Graduated from Ivanovo State University with honours in 2000. Major in English Philology.
Holds a PhD in Philology from Moscow State Linguistic University. The dissertation was defended in 2004 on "Prosody and nonverbal units interaction in a monologue (on the English documentaries)".
Research Interests
English linguistics (phonetics); nonverbal semiotics (gesture-speech interaction; gestures in broad sense: their annotation); cognitive sciences (gesture and speech production and perception); multimodal discourse; English language teaching methods (blended learning; distance / online learning; new technologies and learning; cognitive strategies).
Training courses offered at the University
A course in English Phonetics (Bachelor's Programme in Linguistics)
Quantitative Linguistics (Master's Programme in Linguistics)
Selected Publications
https://istina.msu.ru/profile/SukhovaNatalyaVitalyevna
Sukhova N.V. Hesitation: thoughts, pauses, gestures and speech // Proceedings of IASS-AIS 10th World Congress of Semiotics. Communication of culture. 22-26 September, 2009, A Coruna, Spain. PP. 105-112.
Сухова Н.В. Способы взаимодействия пауз колебания и кинетических фраз // Компьютерная лингвистика и интеллектуальные технологии: По материалам международной конференции Диалог (Бекасово, 4-8 июня 2008). Выпуск 7 (14). М., 2008. С. 511-517. [The directions of interaction between hesitation pauses and kinetic phrases].
Sukhova N.V. Cognitive interaction of verbal and nonverbal signs (prosodio-kinetic complexes) // 2008 — Studies in Variation, Contacts and Change in English Volume 3. Approaches to Language and Cognition URL: https://www.helsinki.fi/varieng/journal/volumes/03/
Sukhova N.V. Gesture and speech interaction on different planes of speech production: competitors or partners? // Теория и практика германских и романских языков. Статьи по материалам VII Всероссийской научно-практической конференции. Ульяновск, 2006. C. 106-117.
Sukhova N.V. Verbal/ Nonverbal Interaction (Cognitive and Functional Viewpoints) [Речежестовое взаимодействие (когнитивный и функциональный подходы) // TRANS — Internet Zeitschrift fur Kulturwissenschaften. Ed. Jeff Bernard. Nr.15, July, 2004. URL: https://www.inst.at/trans/15Nr/01_2/sukhova15.htm
Sukhova N.V. Speaking nonverbally // Semiotics from S to S. A selection of not-so-serious Semiotic studies. By Semiosphere. Kassel, 2004. P. 327-337.
Participation in Research, Grants, Development, etc.
Research grant from CIMO, Finland (2002-2006).
Research grant from RFH (РГНФ) № 08-04-00165а (2008-2010).
Membership in the Russian and foreign academies and other public organizations
Natalya is a board member of a scientific and editorial committee of an international non-profit publisher UMWEB (https://umwebpublications.wordpress.com/staff).
Member of International Association of Cognitive Semiotics (Sweden)
Member of Association of Public Relations Educators (Russia)
Member of Editorial Board of Book Series "New Approaches to the Humanities" published by Springer
https://www.springer.com/series/14105?detailsPage=free
Publications during the past several years
https://istina.msu.ru/profile/SukhovaNatalyaVitalyevna
Сухова Н.В., Захарова М.С. О роли смешанного обучения в дисциплине "Практическая фонетика"// Теория и практика иностранного языка в школе. Сб. науч. ст. — Иваново: Иван. гос. ун-т, 2015. — Вып. 11, — 232 с. — с. 185-199.
Сухова Н.В. Использование аудио- и видеоматериалов // Методическое пособие по организации самостоятельной работы студентов. Коллектив авторов. — М.: Издательство "Спутник+", 2015. — С. 15-21. — 33 с.
Сухова Н.В. Использование аудио- и видеоматериалов в обучении английскому языку для профессиональных целей // Магия ИННО: новое в исследовании языка и методике его преподавания: материалы Второй научно-практической конференции (Москва, 24-25 апреля 2015 г.) Т.2. / отв. ред. Д.А. Крячков. Моск. гос. инст-т междунар. отношений (ун-т) М-ва иностр. дел Рос. Федерации — М.: МГИМО — Университет, 2015. — С. 233-239 — 673, [1] с.